The topic of this page has a wiki of its own: iCarly Wiki.
iCarly is an American sitcom created by Dan Schneider for Nickelodeon the show first aired on September 8, 2007 a week before Drake & Josh another show made by Dan ended the show is about a girl named Carly Shay who makes a webshow called iCarly along with her three best friends the show ended on November 23, 2012 with the hour long series finale iGoodbye iCarly ran for about five years and is the longest running sitcom on Nickolodeon the longest show on Nickelodeon was All That but that was a sketch comedy not a sitcom.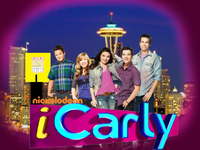 Plot
When Carly and her sassy best friends Kayla and Sam act funny at a school talent show tech savvy Freddie tapes it and posts it online without telling them after seeing the girls strong chemistry and banter the online audience clamors for more and the iCarly webcast is born while grappling with typical issues of Carly, Kayla, Sam and Freddie find out that they have also become online celebrities as their show which features talent contests, recipes, problem solving and random dancing garners international accolades.
Carly lives in Seattle with her twenty six-year-old brother and guardian Spencer and produces the show in a makeshift third floor studio loft in their apartment even though their mother has never been seen or mentioned their father Steven Shay is an Air Force officer who is temporarily stationed on a Submarine and is occasionally mentioned but has only been seen in person on the last episode iGoodbye.
Exterior shots of the Shay's Apartment building Bushwell Plaza are digitally altered images of the Eastern in LA.
The show ends when Carly moves with her Dad to Italy but it is unknown if she will ever come back and continue the web show Dan has stated that he would like to make a reunion episode.
Characters
Trivia
Dice is a huge fan of the web show.
Cat appeared on some online stand alone iCarly segments.
External Links
Community content is available under
CC-BY-SA
unless otherwise noted.